Tuesday, January 23, 2007
Fairness or racism?
مقالة أعجبتني في ضوء مباريات خليجي 18
[An article I liked concerning the current Khaleeji 18 matches (18th Arabian Gulf Cup)]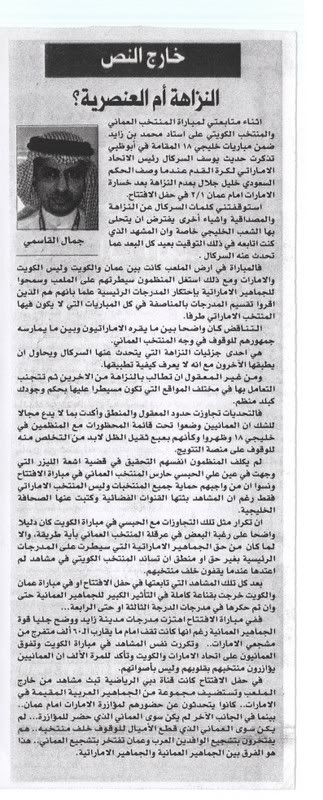 Just in case you're still refusing to climb out of that cave of yours, or if you're one of those people that couldn't care less about all the fuss going on due to the Omani National team's current achievements in the Gulf Cup, this might enlighten you.
The above article criticizes the fairness (or lack thereof) of the host countries spokespeople, representatives and even it's higher ranking officials in their football association. The injustice done to the Omani supporters and to the national team has been a hot topic that's been discussed everywhere from the radio to the workplace and even family gatherings.
How serious is this issue? What could the consequences be and what could they lead to?
I'm pretty sure that by now most of you would have a clue about the answers to those two questions, and I'm sure we'd all agree that it's something that shouldn't be overlooked.
What I'd really like to know though:
Is there room for improvements and making up for those mistakes very soon?